marzo 16, 2017
16/03/17
As A Short History of Film notes, A Trip to the Moon combined «spectacle, sensation, and technical wizardry to create a cosmic fantasy that was an international sensation.» It was profoundly influential on later filmmakers, bringing creativity to the cinematic medium and offering fantasy for pure entertainment, a rare goal in film at the time.
Le Voyage dans la Lune is a 1902 French silent film directed by Georges Méliès. Inspired by a wide variety of sources, including Jules Verne's novels From the Earth to the Moon and Around the Moon, the film follows a group of astronomers who travel to the Moon in a cannon-propelled capsule, explore the Moon's surface, escape from an underground group of Selenites (lunar inhabitants), and return to Earth with a captive Selenite. The film was an internationally popular success on its release, and was extensively pirated by other studios, especially in the United States.
A Trip to the Moon was one of the most complex films that Méliès had made, and employed «every trick he had learned or invented». It was his longest film at the time; both the budget and filming duration were unusually lavish, costing ₣10,000 to make and taking three months to complete. The camera operators were Théophile Michault and Lucien Tainguy, who worked on a daily basis with Méliès as salaried employees for the Star Film Company.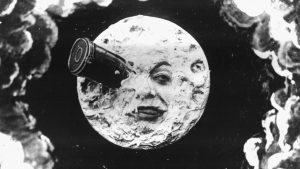 The Arrival of a Train at La Ciotat Station
Is an 1895 French short black-and-white silent documentary film directed and produced by Auguste and Louis Lumière.
This 50-second silent film shows the entry of a train pulled by a steam locomotive into a train station in the French coastal town of La Ciotat. Like most of the early Lumière films, L'arrivée d'un train en gare de La Ciotat consists of a single, unedited view illustrating an aspect of everyday life.
The film is associated with an urban legend well-known in the world of cinema. The story goes that when the film was first shown, the audience was so overwhelmed by the moving image of a life-sized train coming directly at them that people screamed and ran to the back of the room. Hellmuth Karasek in the German magazine Der Spiegel wrote that the film «had a particularly lasting impact; yes, it caused fear, terror, even panic.» However, some have doubted the veracity of this incident such as film scholar and historian Martin Loiperdinger in his essay, «Lumiere's Arrival of the Train: Cinema's Founding Myth».
Louis Lumière eventually re-shot L'Arrivée d'un Train with a stereoscopic film camera and exhibited it (along with a series of other 3D shorts) at a 1935 meeting of the French Academy of Science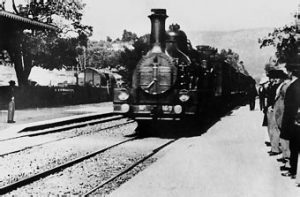 Short Films & Future Films, INCORTO.com