octubre 5, 2017
05/10/17
The Seventh Seal (Swedish: Det sjunde inseglet) is a 1957 Swedish drama-fantasy film written and directed by Ingmar Bergman.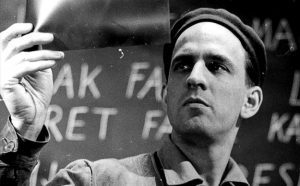 Disillusioned knight Antonius Block (Max von Sydow) and his squire Jöns (Gunnar Björnstrand) return after fighting in the Crusades and find Sweden being ravaged by the plague. On the beach after their arrival, the knight encounters Death (Bengt Ekerot). The knight challenges Death to a chess match. If he wins, he can return home. If he loses, time is over.
Ingmar Bergman's The Seventh Seal contains cinema's most celebrated chess game, however, if we had been able to see the game between life and death, we would have been disappointed by the lack of strategy that can be seen on the board during the different scenes of the movie.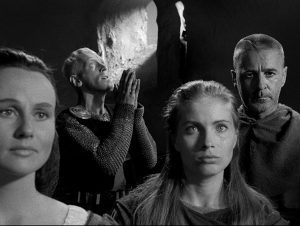 The film narrates in a fantastic way, the struggle between the two parallel planes. With the unique direction of Bergman, the atmosphere, music, costumes and almost all the performances, makes us, the audience, become part of the fiction and enter to the game board. it is a radical work of art that reaches back to scripture, to Cervantes and to Shakespeare to create a new dramatic idiom of its own.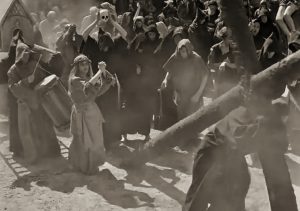 Cast
Gunnar Björnstrand – Jöns, squire
Bengt Ekerot – Death
Nils Poppe – Jof
Max von Sydow – Antonius Block, knight
Bibi Andersson – Mia, Jof's wife
Inga Landgré – Karin, Block's wife
Åke Fridell – Blacksmith Plog
Inga Gill – Lisa, blacksmith's wife
Erik Strandmark – Jonas Skat
Bertil Anderberg – Raval, the thief
Gunnel Lindblom – Mute girl
Maud Hansson – Witch
Gunnar Olsson – Albertus Pictor, church painter
Anders Ek – The Monk
Benkt-Åke Benktsson – Merchant
Gudrun Brost – Maid
Lars Lind – Young monk
Tor Borong – Farmer
Harry Asklund – Inn keeper
Ulf Johanson – Jack's leader
Best Short Films
Best Reviews
Best Classic's
INCORTO.com – INCORTO.com – INCORTO.com
https://www.theguardian.com/film/2007/jul/20/worldcinema.drama1
https://www.empireonline.com/movies/features/seventh-seal-chess-match-analysis/