agosto 25, 2017
25/08/17
Dame Margaret Natalie Smith, (Maggie Smith), (born 28 December 1934)
Her father, a lab technician, her mother a Scottish woman of cold personality. She was openly skeptical that her daughter could be an actress "with a face like that."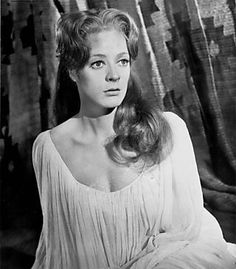 Maggie Smith has appeared in over 50 films and is one of Britain's most recognizable actresses. For six decades, she was made a Dame by Queen Elizabeth II in 1990 for services to the performing arts and received the Companion of Honour from the Queen in 2014 for services to drama.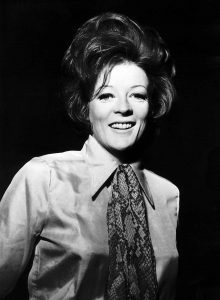 «The reason for Smith's early and sustained success is obvious: her preternatural giftedness.»
«Maggie Smith's career began at the Oxford Playhouse in the 1950s. She made her film debut in 1956 as one of the party guests in Child in the House (1956). She has since performed in over sixty films and television series with some of the most prominent actors and actresses in the world.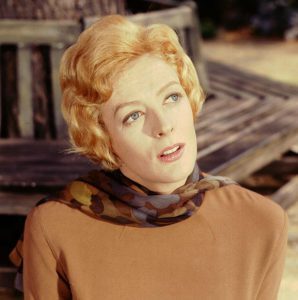 Within a very short space of time, she went from acting in local Oxford productions to appearing opposite Laurence Olivier in a West End production of Ionesco's Rhinoceros, directed by the great Orson Welles.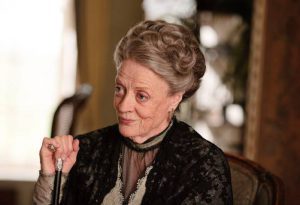 "Acting is what I do," she says. "One is nervous, every single time, to go on a stage at all. But it's the only way I've lived."
Filmography
Notes
1956
Child in the House
Party guest
Uncredited
1958
Nowhere to Go
Bridget Howard
1962
Go to Blazes
Chantal
1963
The V.I.P.s
Miss Mead
Also known as Hotel International
1964
The Pumpkin Eater
Philpot
1965
Othello
Desdemona
Nomination – Academy Award for Best Supporting Actress
Young Cassidy
Nora
1967
The Honey Pot
Sarah Watkins
1968
Hot Millions
Patty Terwilliger Smith
1969
The Prime of Miss Jean Brodie
Jean Brodie
Academy Award for Best Actress
Oh! What a Lovely War
Music Hall Star
1972
Travels with My Aunt
Aunt Augusta Bertram
Nomination – Academy Award for Best Actress
1973
Love and Pain and the Whole Damn Thing
Lila Fisher
1976
Murder by Death
Dora Charleston
1978
Death on the Nile
Miss Bowers
California Suite
Diana Barrie
Academy Award for Best Supporting Actress
1981
Quartet
Lois Heidler
Clash of the Titans
Thetis
1982
Evil Under the Sun
Daphne Castle
The Missionary
Lady Isabel Ames
1983
Better Late Than Never
Miss Anderson
1984
A Private Function
Joyce Chilvers
Lily in Love
Lily Wynn
1985
A Room with a View
Charlotte Bartlett
Nomination – Academy Award for Best Supporting Actress
1987
The Lonely Passion of Judith Hearne
Judith Hearne
1990
Romeo.Juliet
Rosaline
Voice only
1991
Hook
Wendy Darling
1992
Sister Act
Reverend Mother
1993
Sister Act 2: Back in the Habit
The Secret Garden
Mrs. Medlock
1995
Richard III
Duchess of York
1996
The First Wives Club
Gunilla Garson Goldberg
1997
Washington Square
Aunt Lavinia Penniman
1999
Curtain Call
Lily Marlowe
Also known as It All Came True
The Last September
Lady Myra Naylor
Tea with Mussolini
Lady Hester Random
2001
Gosford Park
Constance
Nomination – Academy Award for Best Supporting Actress
Harry Potter and the Philosopher's Stone
Professor Minerva McGonagall
Also known as Harry Potter and the Sorcerer's Stone
2002
Harry Potter and the Chamber of Secrets
Divine Secrets of the Ya-Ya Sisterhood
Caro Eliza Bennett
2004
Harry Potter and the Prisoner of Azkaban
Professor Minerva McGonagall
Ladies in Lavender
Janet Widdington
2005
Keeping Mum
Grace Hawkins
Harry Potter and the Goblet of Fire
Professor Minerva McGonagall
2007
Harry Potter and the Order of the Phoenix
Becoming Jane
Lady Gresham
2009
Harry Potter and the Half-Blood Prince
Professor Minerva McGonagall
From Time to Time
Linnet Oldknow
2010
Nanny McPhee and the Big Bang
Mrs. Agatha Docherty
Also known as Nanny McPhee Returns
2011
Gnomeo & Juliet
Lady Bluebury
Voice only
Harry Potter and the Deathly Hallows 2
Professor Minerva McGonagall
2012
The Best Exotic Marigold Hotel
Muriel Donnelly
Quartet
Jean Horton
2014
My Old Lady
Mathilde Girard
2015
The Second Best Exotic Marigold Hotel
Muriel Donnelly
The Lady in the Van
Miss Shepherd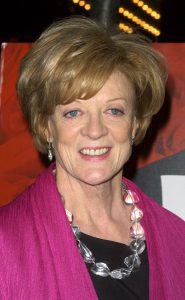 The Film World, INCORTO.com
Short films, Future films, Reviewes & more.
http://www.imdb.com/name/nm0001749/
https://www.usatoday.com/story/life/books/2016/01/03/maggie-smith-a-biography/77700428/
https://en.wikipedia.org/wiki/Maggie_Smith